Menopause Symptoms
Menopause Symptoms Continued...
Irregular Periods
Menopause is reached when a women has gone twelve consecutive months without a menstural cycle.
By this point most menopausal symptoms have already been experienced and are either done or declining.
Irregular periods occurs prior to reaching menopause.
Almost all women will experience irregular periods during perimenopause. In fact, only about 10% of women will reach menopause without ever missing a period.
During this time women can experience irregular menstrual cycles.
One month you may have an extremely short period lasting just a few days or can last for several weeks.
You may also see changes in the intensity of your menstrual flow. One month the bleeding may be very light (just spotting).
The next next month you may experience an extremely heavy flow that can be accompanied by blood clots.
If you are not sure if your erratic periods are due to menopause symptoms or something more serious, consult with your doctor for advise.
Loss of Libido
A loss of sex drive is very common during menopause and effect 20 to 40% of women. The primary cause for the loss of sexual desire is hormonal.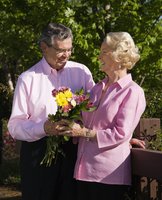 As a women progresses through menopause, the body begins to decrease production of estrogen, progesterone and testosterone (or androgens).
This decreased production can reduce a woman's sex drive, cause vaginal dryness and hot flashes and night sweats.
Although hormonal changes are the primary reason for this menopause symptom there are other causes that include physical, psychological and relational causes.
These include hysterectomy, medications, medical diseases, fatigue and stress just to name a few.
Vaginal Dryness
As the estrogen levels drop, your vaginal tissue becomes dry and you lose some of the elasticity. The elasticity is what allows women to give birth and have sex comfortably.
Additionally, your vagina begins to atrophy, or become smaller in width and length. This is also due to the lower levels of estrogen.
With vaginal dryness sex can become uncomfortable and it may take longer to become lubricated.
In addition to the dryness a woman may experience vaginal itching, light bleeding during or after sex, painful sex and a general discomfort.
Fortunately, vaginal dryness can be minimized with treatment.
The treatments for this menopause symptom can be as simple as an over the counter lubricant or natural supplements to help with the declining estrogen levels.
Or you can go more extreme (with higher risks) and consult with your doctor about a hormone replacement therapy (HRT).
Monthly ezine
Free tips and recipes monthly. What do you have to lose...except some weight.....Sign up now.
Additional Articles
Senior Fitness Tips
You are never too old to start getting active and fit. Read this article to help you start your senior fitness program.
Weight Loss Over 40
Losing weight as we age seems to get harder and harder. This is due to many factors like a slowing metabolism. Check out this article to help you lose weight even beyond the age of 40.
Stages of Menopause
During the different stages of menopause is when women experience the symptoms of menopause. Learn all about the different stages by reading this article.